Convidamos todos a participarem do Open Seminar apresentado pela aluna Mariana Lima Terres intitulado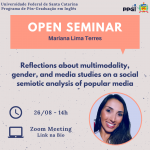 "Reflections about multimodality, gender, and media studies on a social semiotic analysis of popular media".
O evento irá acontecer dia 26/08, quarta-feira, às 14h através da plataforma Zoom.
Para quem necessitar certificação, basta preencher o formulário aqui e se inscrever.